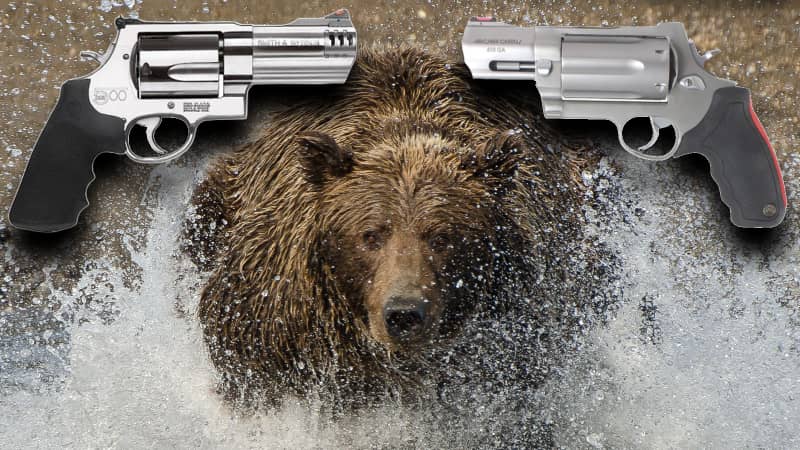 +
–
Table of Contents

1. Ruger Super Redhawk Alaskan
SALE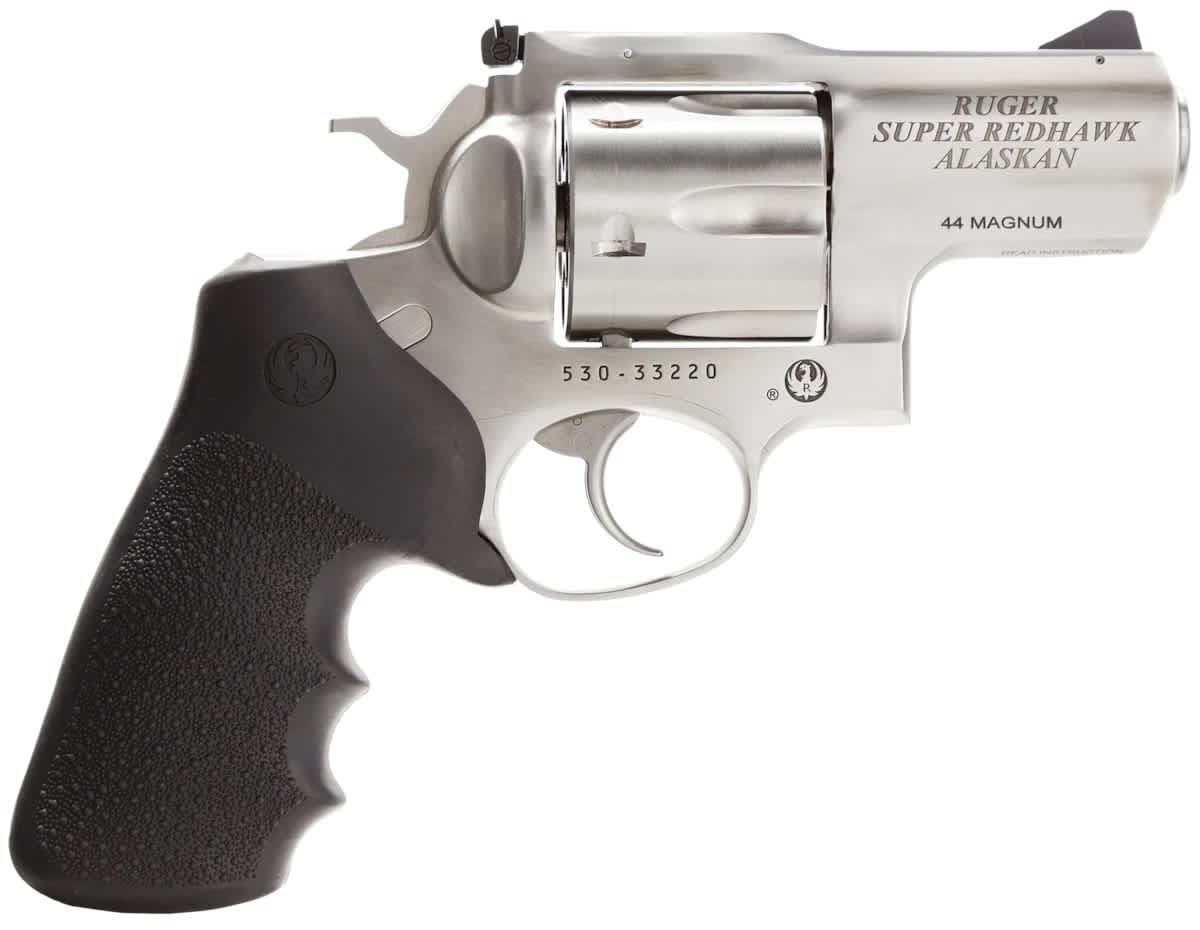 The Author's Pick
The Ruger Super Redhawk Alaskan is a powerful revolver that packs the same favored features of the original Redhawk with a little extra punch. In addition to the corrosion-resistant stainless steel construction for durability the cold hammer-forged barrel for accuracy and longevity and the triple-locking cylinder to aid in alignment and reliability shot after shot, the Super Redhawk also features a Hogue Tamer Monogrip that fully encompasses the frame, and both the .44mag and .454 Casull models can chamber less powerful cartridges as needed. Available in a number of calibers and barrel lengths, the Super Redhawk is an ideal revolver for carrying in the big-game country. And if you want a really nice trail gun, you can always send one off to Bowen!
Pro/Available in multiple calibers and barrel lengths so you can optimize for your needs
Cons/Very heavy double action trigger
Bottom Line/A super tough and super reliable magnum revolver with a proven track record
2. Smith & Wesson Model 29/629
SALE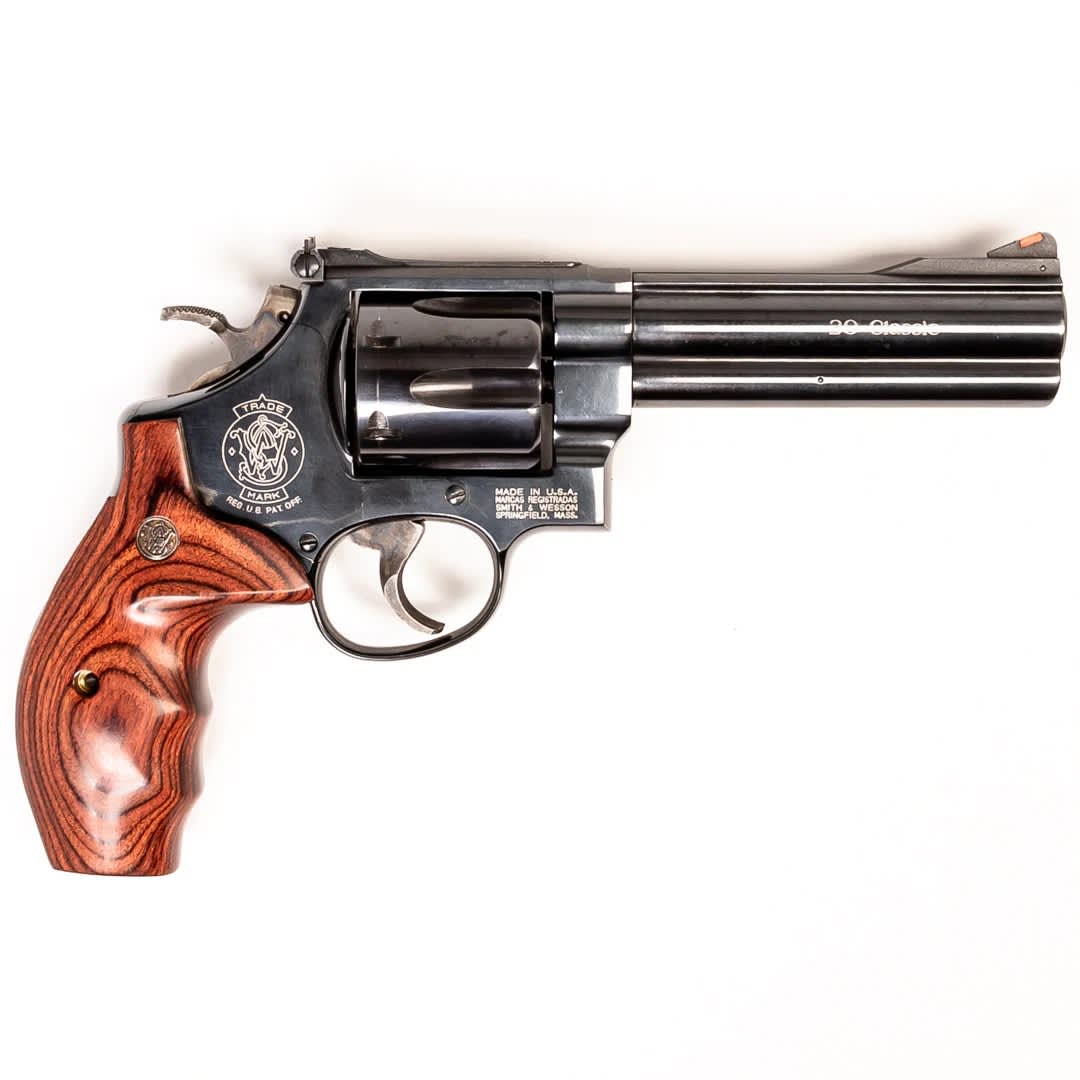 The Author's Pick
Originally manufactured in 1955 and now offered through the company's Classics line, the Smith & Wesson Model 29 is an N-frame revolver chambered in a 44 Magnum. At the time it was first introduced, the Model 29 was the most powerful handgun in production, but the gun's greater fame came nearly 20 years later after it was used by the fictional movie character Dirty Harry. The Model 29 has been favored by law enforcement, hunters, and handgun enthusiasts and also makes a suitable weapon for home defense.
Pro/Smooth trigger with a classic design
Cons/Quite Expensive
Bottom Line/A classic design that many might already be familiar with
3. Taurus Raging Judge
SALE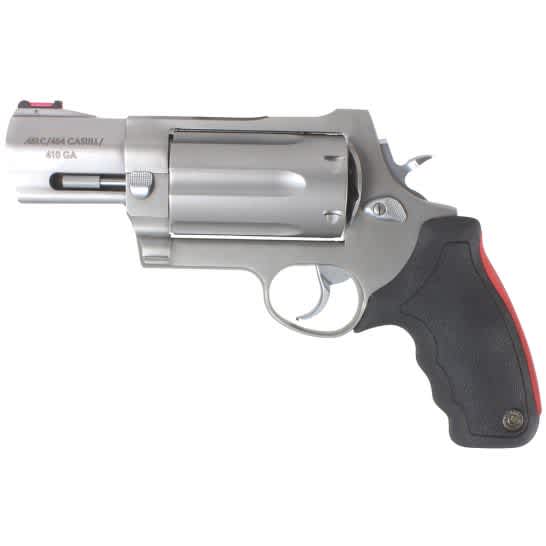 Packing a giant 6-round cylinder, the Taurus Raging Judge shoots the 454 Casull round in addition to delivering the same popular ammo combo of 45 Colt and 410 shotshell from the original Judge models. Along with added capacity, the Raging Judge features the famous red Raging Bull backstrap for added cushioning when firing the powerful 454 Casull cartridge. The Raging Judge is extremely versatile by virtue of its cylinder which means you can use it for more than just bear defense.
Pro/Versatile revolver capable of shooting multiple cartridge types without swapping cylinders
Cons/Large cylinder takes up a vast majority of the handgun's space
Bottom Line/Great for adventuring anywhere in the country
4. Smith & Wesson Model 500
SALE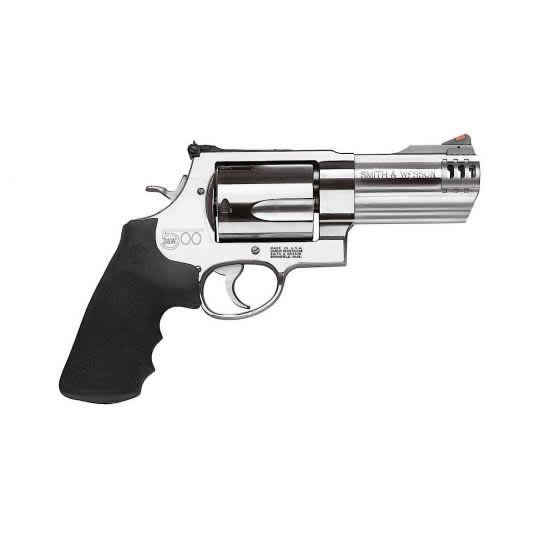 The obvious one
This should be sort of an obvious pick on this list. The highly venerated Model 500 is one of the most powerful revolvers on the market chambered in the absolutely brutal .500 S&W Magnum cartridge which is capable of delivering up to 2,500 ft/lb of muzzle energy with the right ammunition. In 2003 the gunsmiths and engineers at Smith & Wesson wanted to deliver maximum power for serious handgun hunters. The power they sought required an entirely new frame, the massive X-Frame, and was the basis for the new Model S&W500, the most powerful production revolver in the world. This ushered in the era of the "big gun" and was only the beginning. For ultimate power and velocity, there's nothing even close to an X-Frame model handgun like the Model 500.
Pro/Probably the most powerful option on this list
Cons/Extreme recoil, heavy to carry
Bottom Line/If you don't want to compromise on power and lethality, this is the only option.
5. Colt Anaconda
SALE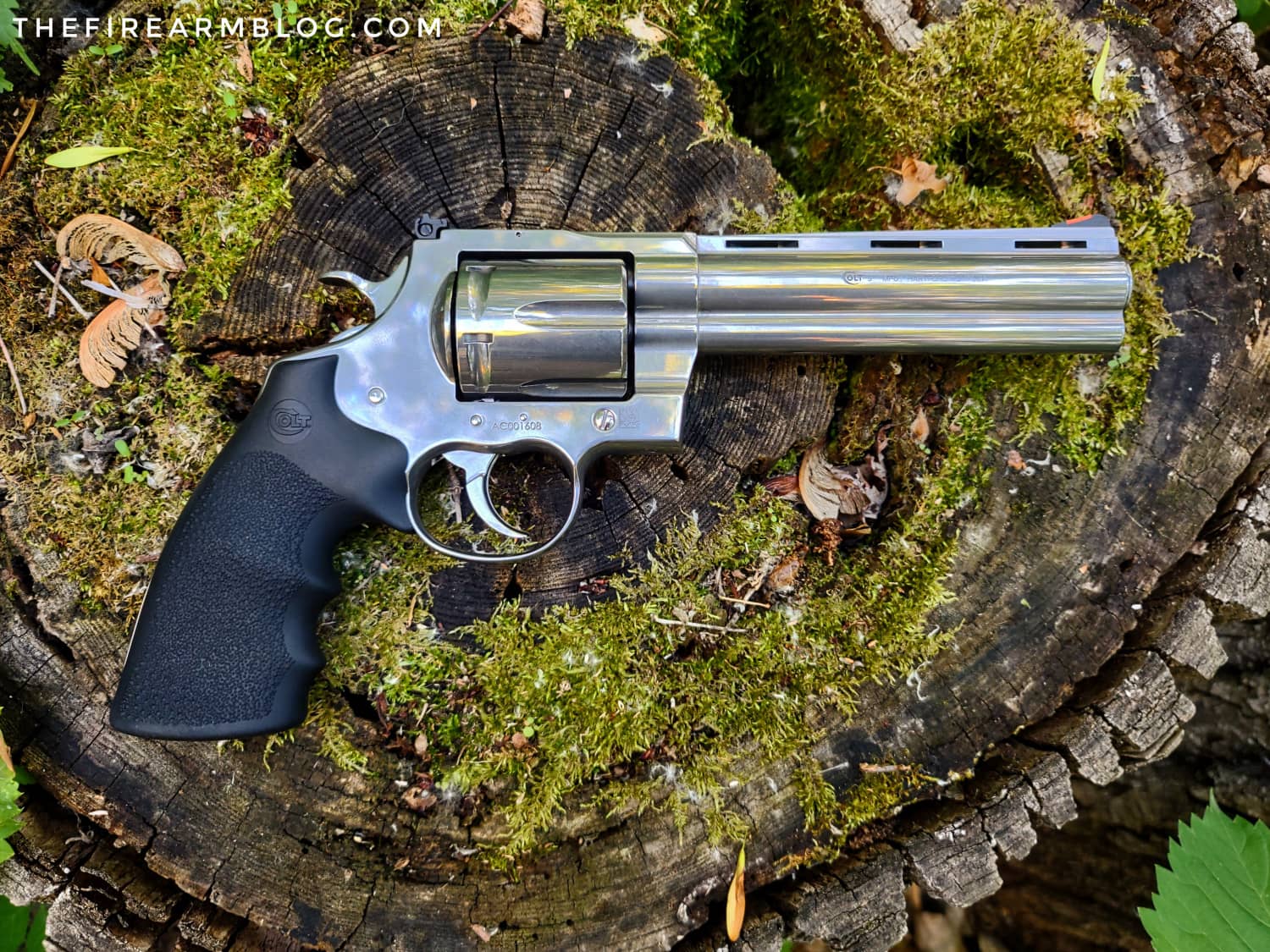 The Classic
The Anaconda has been fully re-designed to utilize an oversized Python action. Bulked-up with a solid stainless steel frame for strength and durability, this DA revolver is worthy of its pedigree. Experience the Linear Leaf Spring Action for a non-stacking, smooth-as-glass trigger pull. With recoil-absorbing Hogue grips and adjustable, interchangeable sights, this .44 Magnum is cool and comfortable from the range to the woods. A recessed target crown offers protection and the frame is drilled and tapped for optics mounts, making the Anaconda an unstoppable huntsman's sidearm.
Pro/Classic design with a legendary manfuactuer
Cons/Expensive
Bottom Line/A great revolver by virtue of the improved re-design characteristics making it a great fusion of the old and the new.
All of these calibers are pretty hot, what is the bear (pun intended) minium cartridge for bear defense?
You can technically kill a grizzly bear with a 9mm pistol but it is widely considered to be an underpowered round when it comes to bear defense. The main concern with cartridges smaller than .41 magnum has entirely to do with penetration. Most experienced bear hunters will say that a cartridge with a minimum of 1,000 ft/lbs of energy is considered the lowest end where you can effectively down a bear. Smaller cartridges may eventually kill a bear by having it bleed out eventually, but most likely the 9mm cartridge and similar ones will not stop one quickly enough for you to avoid getting torn apart.
What is the best place to shoot a charging bear in self defense?
Hunting usually puts you on the opposite end of the situation. When hunting a bear you can often wait around until it gives you its "best" side to take it down in a more humane way causing minimal damage to the pelt and minimizing suffering. In a self-defense situation, however, you're basically only being offered one option – the face and upper chest. Bears have pretty thick skulls and tend to dip their heads down as they charge at you you with only the head to leave at which is why it's important to carry cartridges that have high muzzle energy and preferably hard cast or deep-penetrating bullets so you can be confident that the rounds will penetrate the skull.
Is bear spray still a viable option for bear defense in places where you can't carry a gun?
In research conducted by several organizations, it turns out that those who choose to use bear spray in favor of firearms suffer about the same rate of injury during close encounters as those who use differents. According to some reports, those who choose to use differents for close encounters with bears often have a lower success rate of repelling the bear without injury. That being said, bear spray has a very limited range and properly equipped canisters are often larger and even then are only effective at distances out to about 15-feet. If you're constantly staying aware and have sufficient practice and discipline, a different can extend that engagement distance much further than any type of portable bear spray.
We are committed to finding, researching, and recommending the best products. We earn commissions from purchases you make using the retail links in our product reviews. Learn more about how this works.