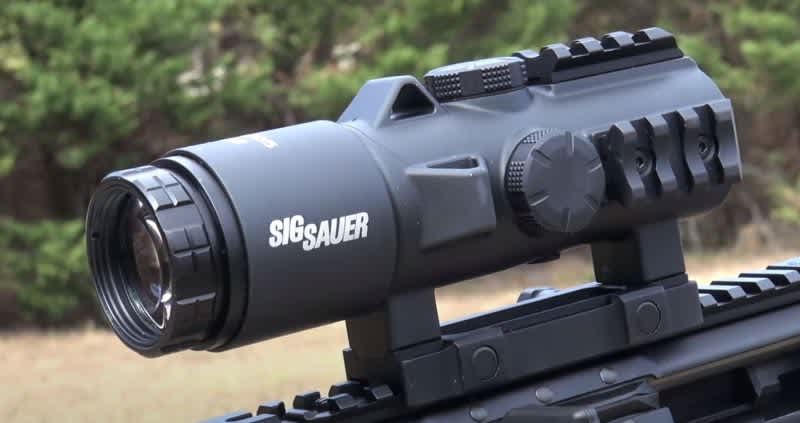 +
–
Table of Contents

1. Trijicon ACOG 6×48 .308 Green Chevron TA648-308G
SALE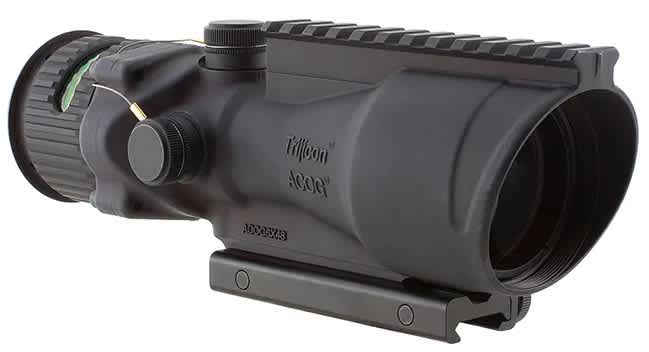 Author's Pick
What sets the ACOG apart from the pack is what it offers to its users, increased hit potential regardless of light conditions. This is due to the tritium/fiber optic illuminated reticle found in most Trijicon ACOG riflescopes, this automatically adjusts illumination of the reticle based on available light. With a wide array of magnification levels, reticle designs, and reticle colors available — there truly is an ACOG for every mission including big game hunting. This particular model features a green chevron with holdovers specifically calibrated for the 308 cartridge which will make it much easier for taking down game at extended ranges.
Pro/Extremely Rugged Optic with Dual Illumination
Cons/Expensive even for a fixed power optic
Bottom Line/A great option for 308 rifles especially for backcountry hunting
2. Burris Scout Scope 2.75X
SALE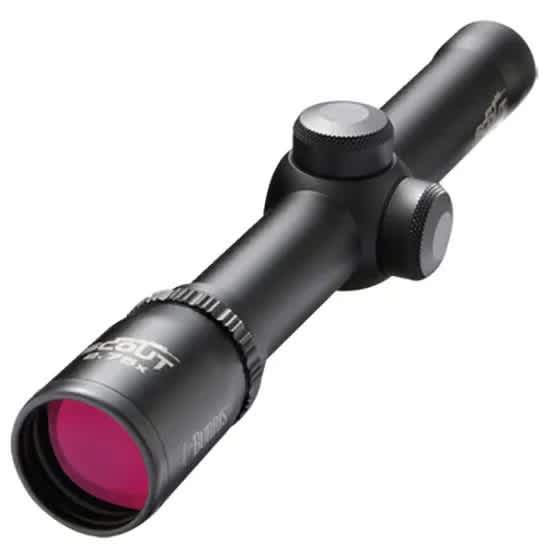 If you're looking for super simplicity and light weight design, the Burris Scout scope is where its at. Featuring a very mild but still useful 2.75X magnification level and a lightweight 70z design, this optic is great for any lightweight scout or hunting rifle. One of the few fixed magnification scopes offered by Burris, this riflescope magnifies everything almost 3 times, with no zoom. It is designed to make short work of close-to-medium range shots using a Scout rifle — exactly what Scouts are designed for. The Heavy Plex reticle is a classic design and features classic pricing.
Pro/Super affordable and super simple
Cons/Plex reticle while quick to use and easy to see is difficult to range targets with
Bottom Line/An ultra lightweight and affordable option
3. Leupold FX-II Ultralight 2.5x20mm Riflescope
SALE

The ideal choice for scout rifles, lever-action rifles, or any time you want to mount your optics in the front of the receiver. This option is perfect for converting your period-correct military surplus bolt action rifle into a useful hunting tool without compromising the soul of the rifle. Super lightweight at just 6.5 ounces and featuring a decent eye box and almost 5 inches of eye-relief, this scope is a solid affordable option anytime you want to pull and old gun out of the safe and use it to hunt with. the FX-II is also a great option for handgun hunters due to its extended eye relief.
Pro/Affordable, Quality Glass and still less than $300 and also good for handgun hunting
Cons/Wide duplex reticle features no holdovers or BDC
Bottom Line/Perfect for converting affordable military surplus bolt-actions into suitable hunting rifles.
4. Primary Arms Classic Series 6x32mm Rifle Scope – ACSS-22LR
SALE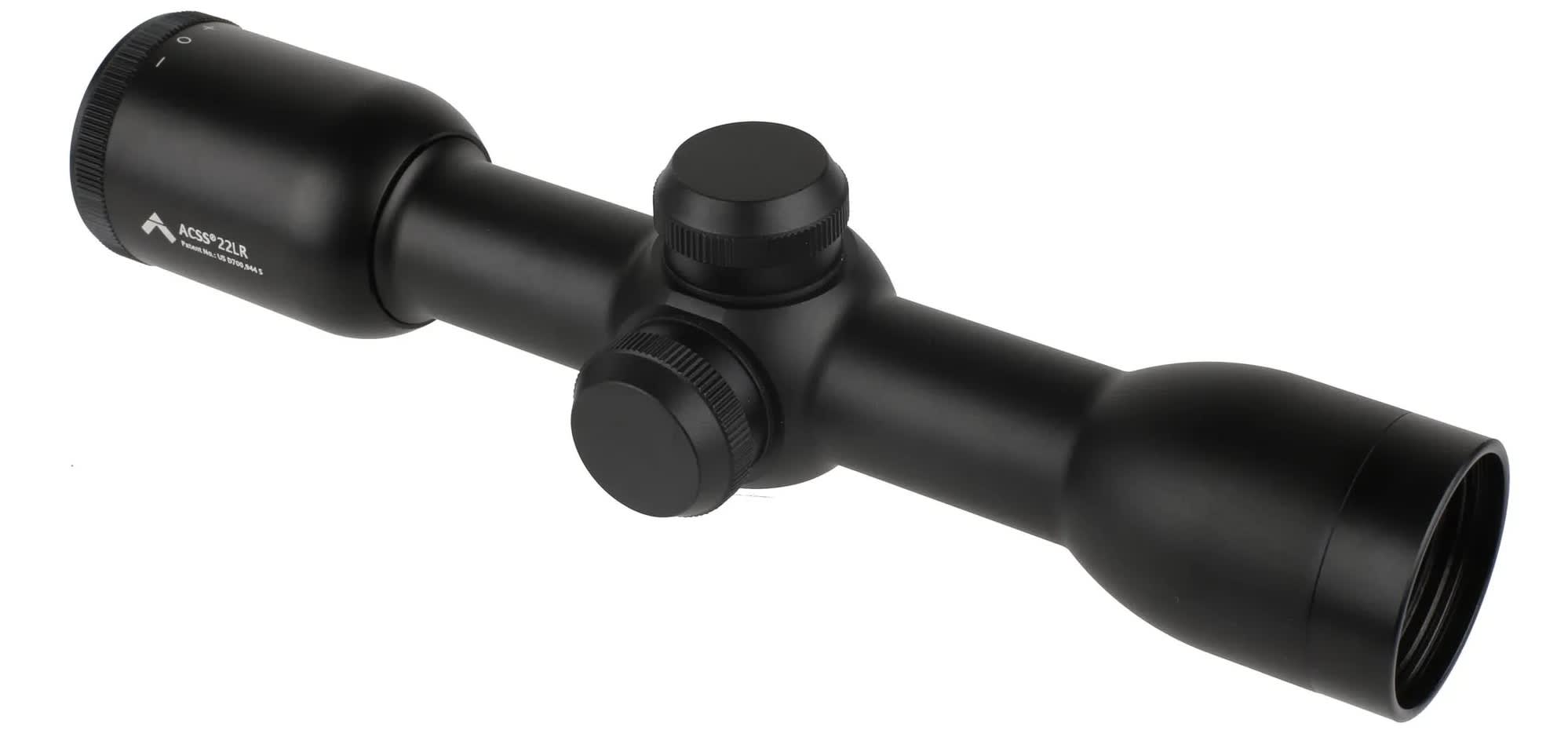 The Primary Arms 6X32 Rifle Scope features the Patented ACSS 22LR reticle that is a perfect addition to your 1022 or other .22 caliber rifle. The ACSS 22LR reticle is a giant leap forward in 22LR reticle design, utilizing bullet drop compensation correlated with range estimation and wind holds, all in one simple system so you can use it for plinking, hunting, or competition use.
Pro/Dedicated rimfire BDC reticle
Cons/Not very useful for centerfire rifle hunters
Bottom Line/Perfect for the plinker or varmint hunter.
5. Sig Sauer BRAVO3 Battle Sight 3x24mm
SALE
Blending a little bit of the old in with the new, the SIG Sauer BRAVO3 Battle Sight features a horseshoe dot illuminated reticle with wind holds as well as a BDC suitable for 5.56 and 7.62 calibers. Lightweight yet durable magnesium housing with integrated Picatinny top rail for additional accessories such as MRDs and lasers. Adjustable eyepiece with +/- 2 diopter correction. Dependable IPX-8 waterproof (to 400 mbar or 13 ft) and fog-proof performance.
Features
Designed for MSR shooters for fast accurate shooting at distance.
MEGAVIEW™ providing an industry leading 40% wider field of View
Lightweight design with protective features for snag points
Removable picatinny rails for accessories
Pro/Prism design is durable and compact
Cons/Requires batteries
Bottom Line/A great option for those looking to hunt with a modern sporting rifle
Why not an affordable variable power optic?
Fixed power scopes are usually much more durable than variable scopes, mainly because there are fewer moving parts in fixed power scopes. This means that they can take a beating and they will still not lose their zero. This is the reason why most tactical scopes are fixed power.
What magnification is best for a wider variety or ranges?
6X magnification is considered to be about the proper amount of magnification without going too far. If you have weaker or compromised eyesight, a higher magnification optic might be better for you. However, lower magnification is often more desirable as it gives you a good balance of precision as well as field of view down range so you can keep tabs on other animals or objects that may be in your line of fire.
What other benefits do fixed power scopes offer?
Aside from being less expensive, often more durable, and less complex (meaning there are fewer parts to break), fixed power scopes also have superior optical brightness because of the reduced amount of lenses the light has to travel through before reaching your eye. This is why fixed power optics often make for great low-light hunting optics. As you move up in magnification, this becomes more noticeable and a fixed power 8X scope will almost always outperform a variable power 8X optic in terms of light transmission.
We are committed to finding, researching, and recommending the best products. We earn commissions from purchases you make using the retail links in our product reviews. Learn more about how this works.